Hardware-as-a-service (HaaS) bundles to drive sales and profitability
by Zachary Kimball on September 26, 2023
"How should we structure our offering?" is a common question for hardware companies going to market with hardware-as-a-service (HaaS) solutions. Sales and finance leaders are looking for a clear framework to design (or evaluate) their bundles. Bundles can maximize value for customers, and sales and margins as a result. But bundles can also be confusing and challenging to design. How do you know you've gotten your bundling right?
How should you strategically bundle your HaaS offering?
Most HaaS contracts and solutions include an assortment of options—typically a bundle of core line items along with additional items that depend on the buyer. These line items break down across eight categories, which make up the eight core components of any HaaS solution:
Hardware

Software

Consumables

Accessories

Installation, setup, and training

Maintenance, support, and repair

Warranty programs and service plans

Shipping and delivery
Hardware manufacturers typically choose to include a few of these categories as a "core" set of 2–3 line items for their base solution, regardless of what type of hardware package they are assembling. This comes in many flavors, including HaaS, device-as-a-service (DaaS), equipment-as-a-service (EaaS), machine-as-service (MaaS), and more. Manufacturers may also vary the offering based on the hardware as a service business model that they are seeking to deploy.
Hardware businesses then offer upsell options for subscribers to add on other components (such as a warranty program). As the number of required components increases, the manufacturer should consider offering a bundle to reduce the number of line items that have to be discussed (and potentially negotiated).
A well-designed and effective core bundle should include products and services that are required to operate the HaaS model, as well as anything that is "essentially" required to achieve success with the solution. We've worked with and talked to HaaS market leaders about bundling to maximize market impact and improve profitability. We've turned those learnings into a bundling framework for HaaS, in which we break products and services into four groups:

1. Required components are the core of the solution (e.g., for a software-enabled hardware offering, the hardware and software themselves are required)
2. Essential components are necessary to deliver the full value of the solution (e.g., the hardware may not be optimized without custom installation)
3. Optional components are available that bring additional value to any customer (e.g., support plan can help keep hardware running)
4. Specialized components are add-ons relevant for only some customers (e.g., particular set of attachments for a specific use case)
We explore each of these categories more extensively below.
(1)

Required

HaaS components
Required components are the bare necessities that are vital to getting a customer up and running. For most hardware companies, this includes at least hardware, software, and a core accessory like a battery (without which the hardware will not work). All components of your offering that are necessary for a customer to start operating fall into this category: If software is essential to run your hardware, software should be included in this group when considering a bundle. If freight or delivery costs are a meaningful portion of the contract value that must be included to make margins work, those charges would be required.
For example, required components for an autonomous tractor would include the tractor, its sensor, and the software (on board or in the cloud) that makes it autonomous. Required components for a sensor company might include ceiling sensors, a base station, a network switch, control software, and installation. In other words, whatever would prevent your customer from getting any value at all from your solution should be included in this group. And everything in this group should be included in your base bundle.
(2)

Essential

HaaS components
Essential components are the line items that are less obviously critical, but are required for the customer to experience the full value of the solution you are selling. These components often require deeper conversation to explain how you help customers capture the full value—and how you deliver on the full promise—of your hardware offering.
The distinction between required and essential can be subtle: Hardware is self-evidently a required component, but perhaps your service plan is essential because it's what makes your hardware successful (no customer has an in-house expert to service your solution). You'd do yourself and your customers a disservice if you don't include the service plan in your core bundle—but you might not realize until it's too late and the customer is disappointed they are not capturing the value you promised!
For example:
If equipment won't deliver for the customer over the contract period without ongoing maintenance, a maintenance program may be an essential part of your solution

If there's meaningful risk of hardware breaking down during the contract term, a warranty program may be an essential component of your solution

If a custom setup is required to get full value from the HaaS solution, installation may be an essential component in your core offering
In the autonomous tractor company example, a seasonal tune-up program that keeps the performance at 100% may be an "essential" part of the core bundle. For the office sensor company, backup batteries might be necessary for power-off operation so that customers experience the full value of the solution 24/7/365.
(3)

Optional

HaaS components
Optional components can enhance the value of the solution for all of your customers, but the components aren't necessary to deliver successful outcomes. This might include extra accessories (which enable the hardware with additional capabilities) or supplemental services (which improve performance beyond the accepted baseline). Warranty programs are often sold as optional add-ons to the base plan because they are oriented around risk mitigation. This is in contrast with an ongoing service plan, which is more often designed as an essential item to keep the solution operating at peak performance.
Basically an "optional" component makes the solution better but is not necessary to achieve success. Such items can and should be pitched as part of an expansion bundle—e.g., a "platinum package"—for customers looking to further increase the value of your solution to their business.
An example of optional, value-add components for the autonomous tractor company would be a more efficient battery pack that extends the service life of the battery, allows longer run times, and provides faster charging time. For the example sensor company, additional wall sensors that expand the sensing range of the system and make it more sensitive to passing traffic.
(4)

Specialized

HaaS components
Specialized components add value for some customers, but they don't apply to every customer—they are often additions or enhancements for specific use cases. Use this group to offer line items as add-ons to core bundles in sales situations where they are relevant—an extended warranty that supports long-term government contracts, for example, or an industry-specific accessory which is only relevant for certain deployments.
For an autonomous tractor company, a specialized component might be a harvesting extension designed for a particular type of fruit or vegetable; or a set of wheels or treads designed to cope with unique surface conditions. For our sensor company, a specialized component might be water sensors for the basement or gas sensors for the ceilings, each of which might only be needed in certain commercial applications.
Using this framework to bundle your HaaS solution
In the final bundling framework, each product or service comes from one of the eight categories that make up an effective HaaS solution. We recommend you review those categories, and then follow these steps:
List out your products and services

Categorize each product/service into one of four groups: required, essential, optional, or specialized

Group "required" and "essential" products into your core bundle (it might help to ask "What's essential for 90%+ of buyers?")

Identify upsell opportunities around "optional" components

Set up industry-specific add-ons with "specialized" components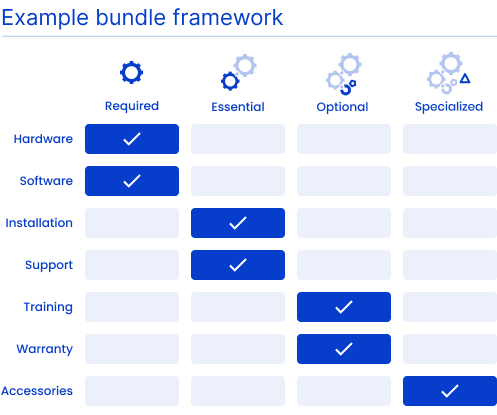 We offer a free resource—the Hardfin HaaS bundle builder—so you can run your own grouping exercise and create HaaS bundles that increase sales and improve profitability. Feel free to request a copy, and we're here to talk if there are any other questions we can answer for you.
It's worth noting that no framework is 100% comprehensive—the pricing structures of the offering (e.g., fixed-fee, scale-based, or usage-based) affect a manufacturers' ability to bundle. The complexity of your offering and the number of industries you serve will also impact your bundling. And all of these factors make HaaS a challenging business model to execute. But we've found this bundling framework helps organize hardware-as-a-service offerings.
While HaaS bundles can benefit both your customers and your company, they're not only challenging to design—they can also be difficult to track, bill, and account for. These problems are especially pronounced for the finance org. That's where Hardfin comes in as a solution to hardware financial operations: the software platform for hardware billing that modern companies use to offer complex hardware programs. We help companies go from contract to revenue faster.